This blog certainly would have set your mood to explore these best instagrammable restaurants in Islamabad, so head out, turn your cameras on, capture the best shots, send snaps, create reels, make some engaging Vlogs, blast your social media with mesmerizing social media feeds- inspire your followers & let the world know the places to be known.
Restaurants are not just chosen for their food, their ambiance plays an equally important role. Especially now that social media feeds are part of our daily routine. Technically speaking, if food is the sole reason to go out, shouldn't we be able to cook it ourselves or order it online and eat it at home like every other day?
While going out to eat, people go the extra mile, dressing up & taking their time to get ready, as if they're heading to a special celebration.
People like to show their excitement on Instagram or Snapchat letting their followers know where have they been, and what have they eaten & for that they want the perfect combination of ambiance & food.
An ideal restaurant that caters to all your needs, including food, ambiance, and customer service so you can enjoy your visit thoroughly & document it in your stories. Because going out isn't just about eating out in today's social media-driven world.
You will endorse that now we see through our smartphones than with our real eyes, and people are eager to share their bliss with their followers & friends on social media all the times. This is how you capture the moment & look back years later.
Best Instagrammable Restaurants in Islamabad
It is inevitable that you will need the best aesthetically pleasing restaurants in Islamabad in order to record pleasant moments on your phone. There are so many such hidden gems that need to be known by everyone. In this blog, we will try to discover a few of the best ambiance restaurants in Islamabad.
El Momento Islamabad
El Momento Fine Dine Restaurant in Islamabad embarked recently in Beverly Center, Islamabad after Lahore & besides its exceptional taste in Steaks, it's also very popular for its unique dark restaurant ambiance.
I mean who doesn't like a sky full of stars, yes we are talking about the aesthetically designed ambiance of El Momento which is a hub of influencers to create their attractive reels in such a pleasant ambiance.
Its open terrace setting as well as indoor aesthetic decor with dim lighting will set a perfect mood for the Instagrammable freaks to capture their candid photographs with the best combination of interior & food classic presentation.
Apart from the delicious food, El Momento also provides exceptional service. The staff members are courteous, attentive, and well-versed in the menu, always ready to assist and make your dining experience memorable.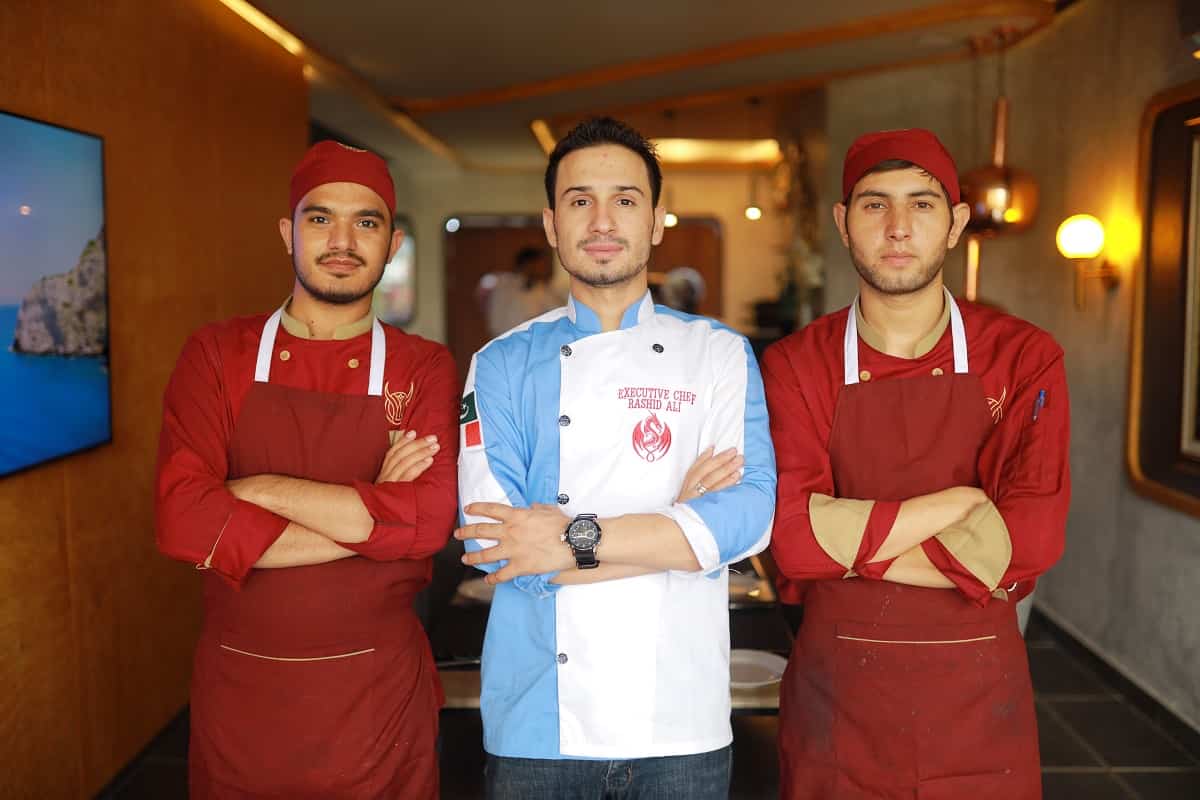 Whether you are celebrating a special occasion, having a romantic dinner, or simply enjoying a meal with friends and family, the staff at El Momento ensures that every aspect of your visit is taken care of.
When it comes to Instagrammable spots in Islamabad, El Momento offers plenty of opportunities to capture stunning photographs. From the beautifully plated dishes to the stylish interior, every corner of the restaurant is Instagram-worthy.
Whether you want to showcase your food photography skills, capture the vibrant colors of the decor, or simply take a selfie against the backdrop of the trendy setting, El Momento provides a plethora of options for creating envy-inducing posts for your social media feeds.
Location: Shop#06, Ground Floor, Beverly Centre, F 6/1, Islamabad.
Monal Restaurant
Monal Restaurant, located on the Margalla Hills, offers breathtaking views of Islamabad. Its beautiful hilltop setting and elegant decor make it one of the city's best ambiance restaurants.
The restaurant has both indoor and outdoor seating areas, allowing guests to take in the scenery. Monal creates a cozy and inviting atmosphere with its warm lighting & tastefully designed interiors.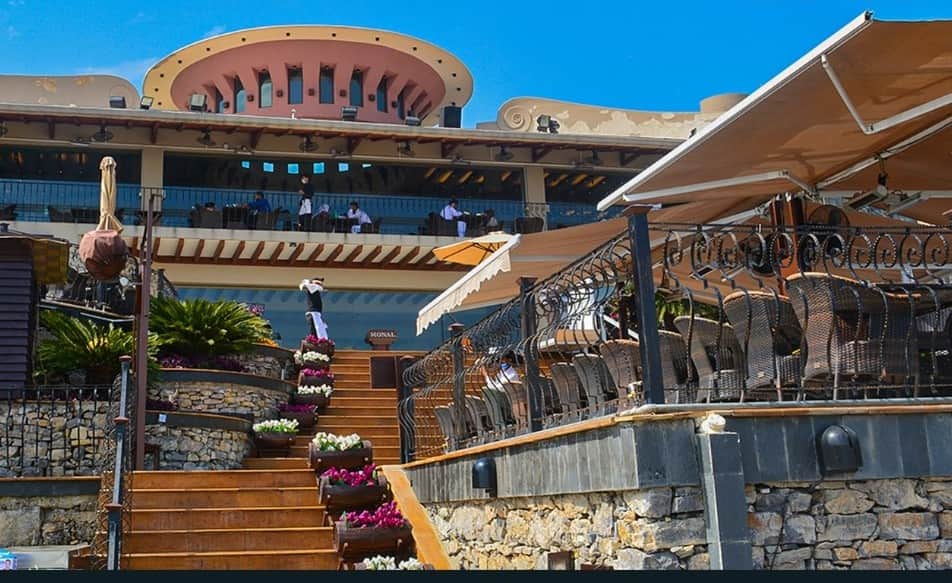 It is an excellent choice for romantic dinners, family gatherings, or casual dining with friends. The restaurant also has a terrace where people can take beautiful photos for their Instagram feeds.
Location- 9KM Pir Sohawa Road, Islamabad- Pakistan
1969 Restaurant
1969 Restaurant (Cafe 1969) is a hidden treasure among Islamabad's best ambiance restaurants located in the lap of nature. You can enjoy the awe-inspiring view of Shakarpairan & Pakistan's monument. Its fascinating atmosphere and picturesque surroundings, make it the ideal Instagrammable destination for both food fans and influencers.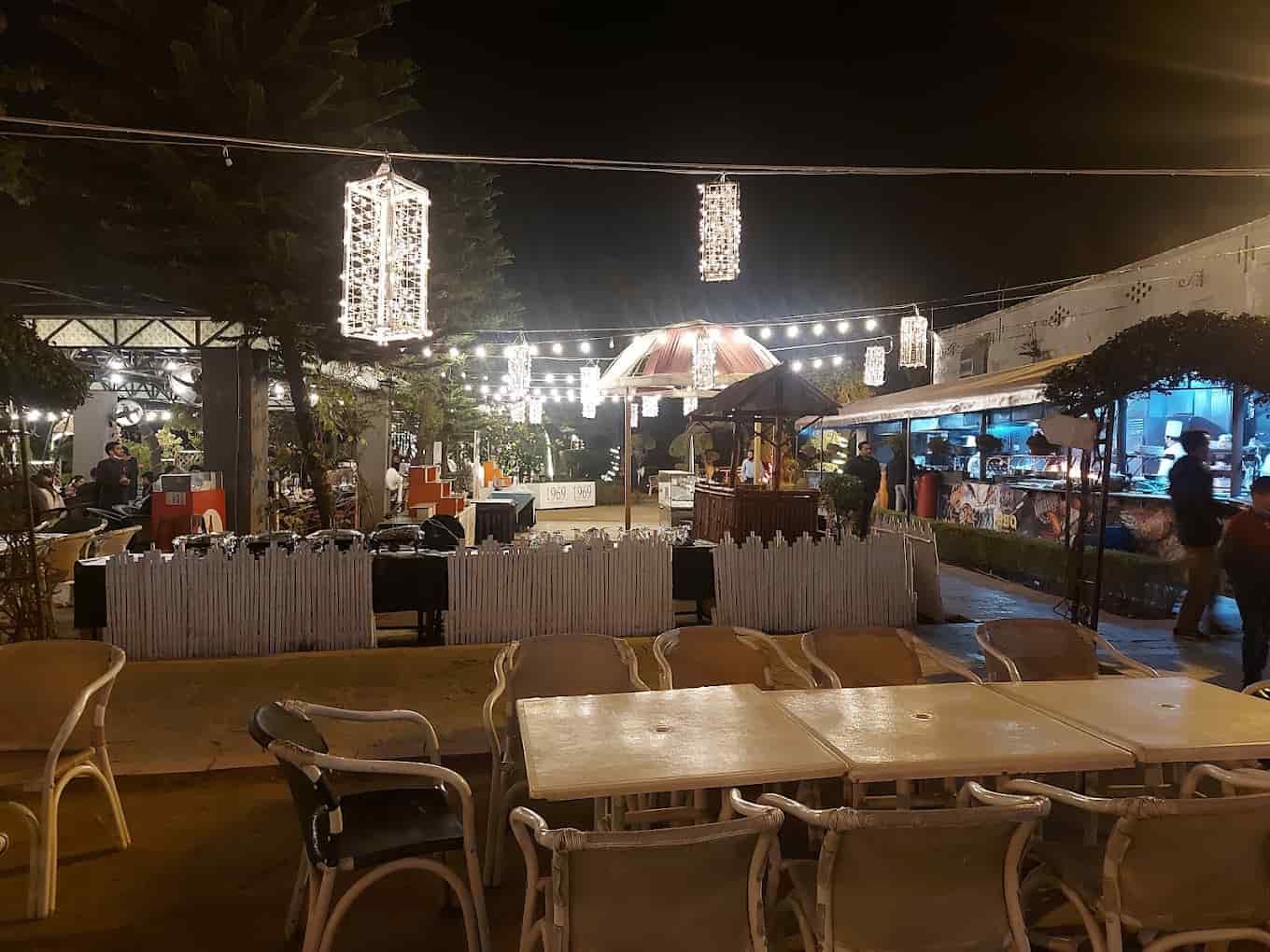 You are welcomed with an aesthetic that deftly combines modern elegance and rural appeal as soon as you enter Cafe 1969. The interior has an exquisite fusion of old furnishings, plush seats, and bright accents. Every nook of this restaurant has a special charm that demands to be caught via your camera lens, from the comfy vintage-style couches to the tastefully constructed walls decorated with interesting artwork.
The huge windows allow plenty of natural light, which makes an ideal setting for taking stunning photographs and videos. The thoughtful interior design of Cafe 1969 provides the ideal background for all your Instagram moments, whether you're trying to take a candid photo of your delicious meal or a flat lay of the table setting.
Its exterior dining area is one of Cafe 1969's best Instagrammable features. This location offers a wonderful environment for generating spectacular content with an attractive and peaceful garden space, replete with lush vegetation, fairy lights, and cozy seats. Your photos and reels will have a natural and refreshing backdrop due to the lovely wooden tables and chairs surrounded by colorful flowers and greenery.
Location: Garden Ave, Shakarpairan, Islamabad
Tuscany Courtyard
Located in the downtown area of Islamabad, Tuscany Courtyard gives a taste of Italy. The restaurant has a pleasant and welcoming ambiance with its exquisite decor & Mediterranean influence.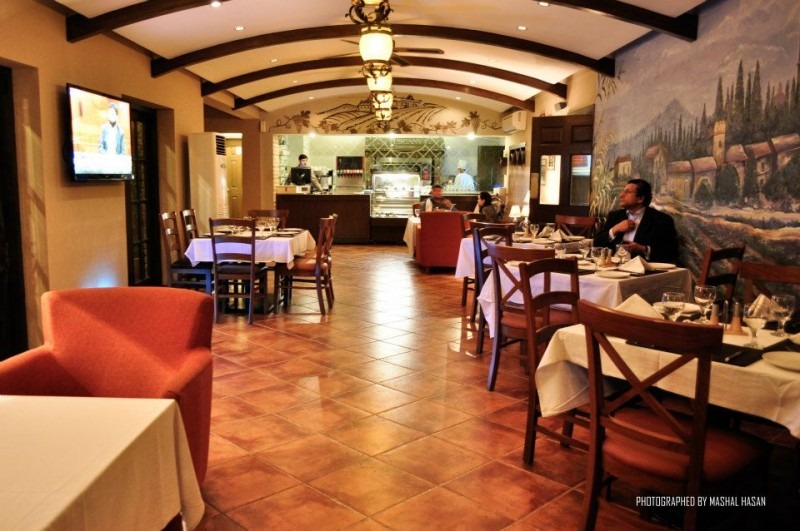 Murals and colorful artwork are displayed on the walls, and there is greenery all around the outside dining area.
Italian-themed restaurant Tuscany Courtyard serves a variety of pasta, pizza, and seafood meals. The restaurant is a popular choice for special events and Instagram addicts due to its romantic ambiance and scenic surroundings. Take as many photos as you want from the different angles of the restaurant and save them in your memories forever.
Location- No. 4, Kohsar market, Street 10, Islamabad, Pakistan
La Montana Restaurant
La Montana looks like built with Instagrammability in mind due to its aesthetic ambiance. The terrace's panoramic views, outdoor furniture, and rich greenery make it the ideal location for photographing stunning landscape photos.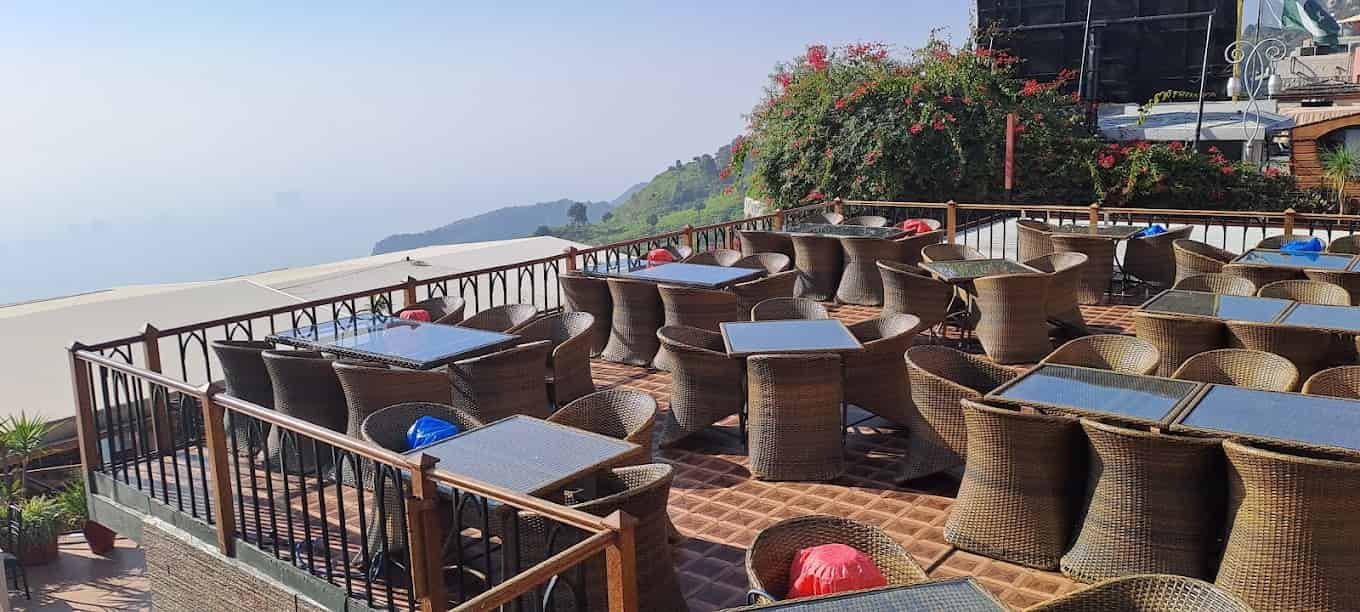 Its chic backdrop and little corners, the interior seating area is perfect for capturing candid pictures or displaying your fashionable attire. There are several possibilities to produce eye-catching footage in the restaurant as its nicely set tables, artistically prepared meals, and meticulous details everywhere fully grasp your consciousness.
Location: Margalla Hills، 9 KMs, Pir Sohawa Road, Islamabad- Pakistan.
Des Pardes
One of the standout features of Des Pardes is its visually stunning decor. The restaurant boasts a chic and modern interior design that combines rustic elements with vibrant colors and intricate patterns that are best for capturing those picture-perfect moments. The well-thought-out lighting, stylish furniture, and artistic accents create a visually appealing setting that is sure to impress anyone looking for an Instagrammable spot.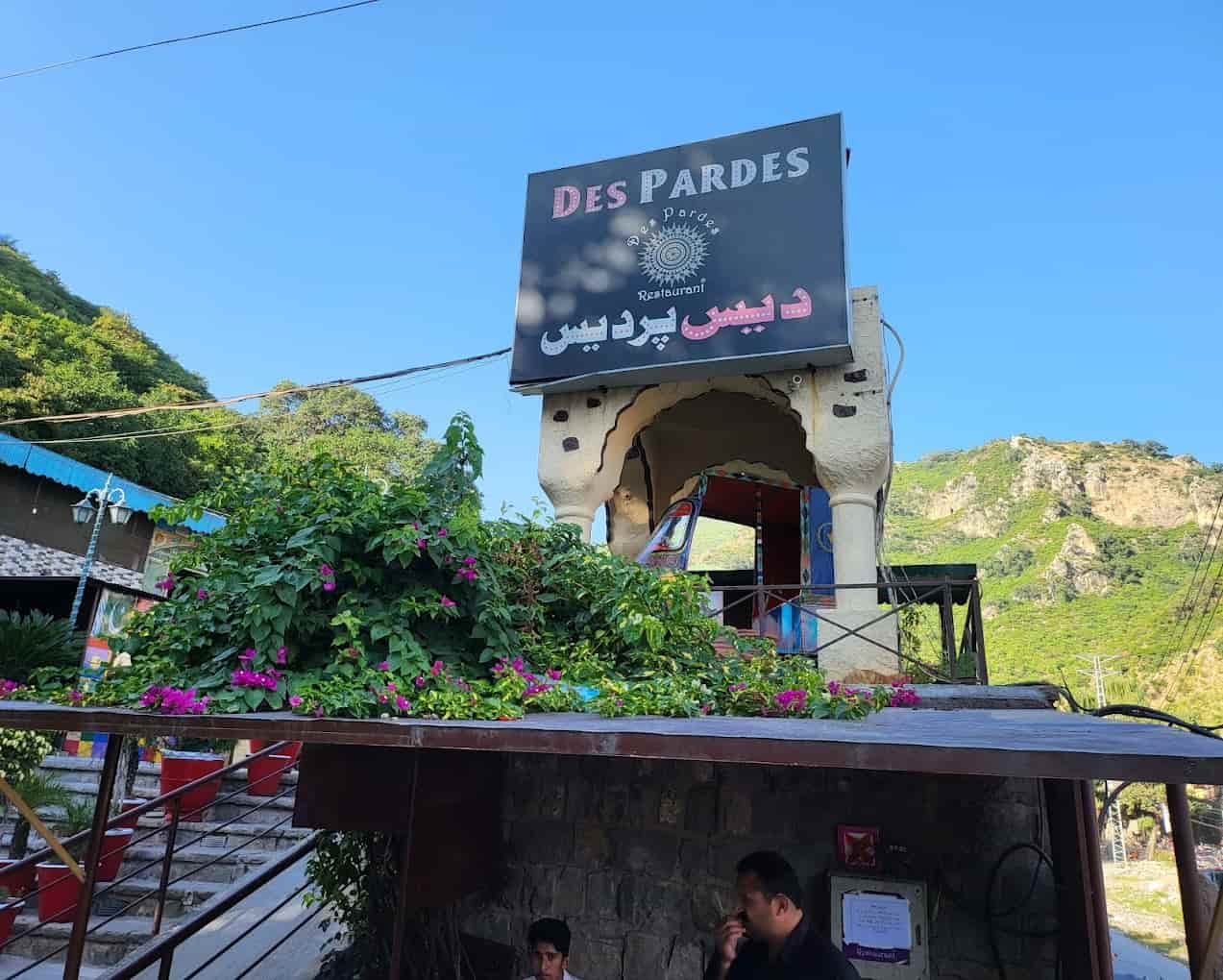 Beyond its aesthetic appeal, Des Pardes offers an extensive menu that caters to a variety of tastes and preferences. Whether you are a fan of Pakistani cuisine. From succulent kebabs and aromatic biryanis to flavorful curries and mouthwatering desserts, the culinary offerings at Des Pardes.
The restaurant often hosts live music performances and cultural events, adding an extra layer of entertainment and enjoyment to your dining experience take the restaurant's ambiance over the moon. These events not only showcase local talent but also create an ambiance that is lively and vibrant, making it an ideal place for social gatherings and celebrations. You will surely love to spend time here & take your best photographs to display.
Location: Saidpur Rd, Saidpur, Islamabad- Pakistan.
Cave Dinner
The Cave Diner, an authentic hidden gem. As you reach the interior, which will take you to the depths of a mysterious cavern with its stunning karst terrain, you will experience a world unlike any other. For the whole family, especially the youngsters, this unique restaurant is not just a gourmet treat but also an exciting adventure.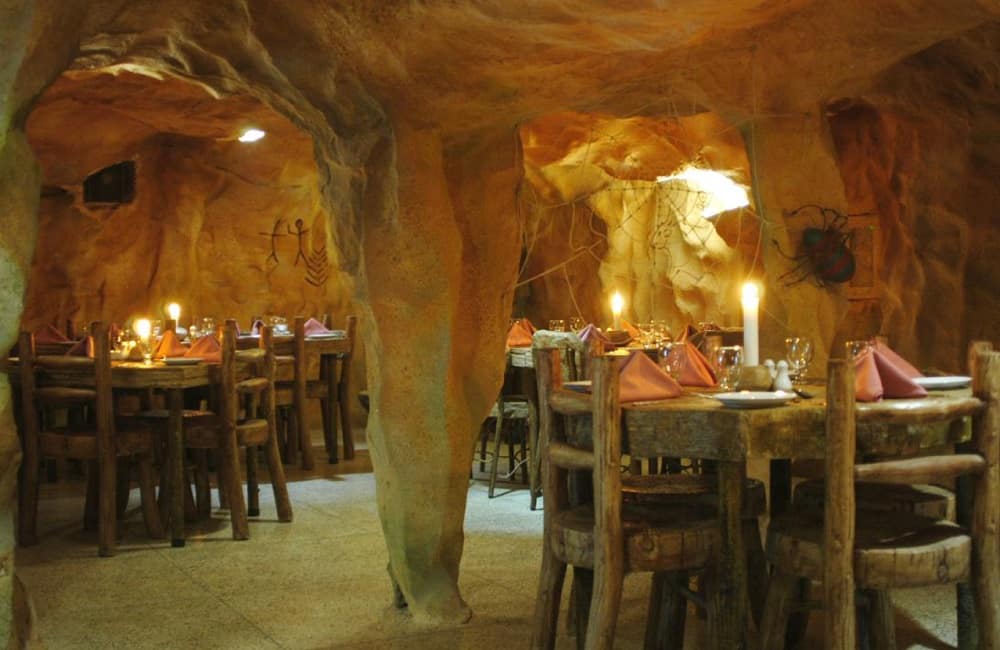 You'll be enchanted by the fascinating atmosphere, which wonderfully depicts the character of a cave, from the minute you enter. The extreme care given to detail provides a rustic and distinctive environment, rendering it the perfect location for catching breathtaking photos that will impress your friends. Experiencing an experience like this is a rare opportunity.
Location: Near Pizza Hut, F-6 Markaz, Islamabad- Pakistan..
La Terrazza
Located on the 3rd floor of the famous Centaurus Mall Islamabad. The terrace view of the restaurant is simply phenomenal. It will make you feel like you can see the whole city view from its top.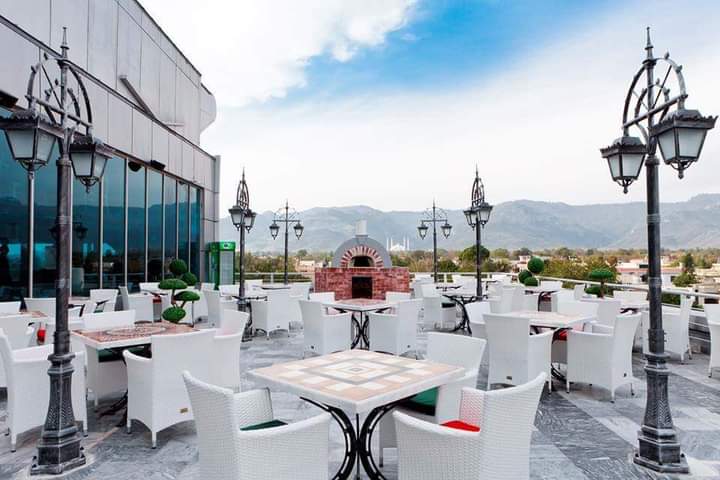 The breathtaking Margalla Hills view, the skyline, and watching birds flapping in the wind are just nothing less than perfect for your camera lens. What could be more pleasant than having such a panoramic view while enjoying your meal with your loved ones, especially at night it will be best to create some captivating Instagram feeds & reels.
Its sleek indoor decor is nevertheless to inspire you, soothing lighting, and carefully chosen interior can let you capture the photographs through all the aspects. Capture the moment at La Terraza & feed your social media feeds with real stunning snapshots.
Location: Third Floor, The Centaurus Mall, Jinnah Avenue, Islamabad, Pakistan
Ramada Rooftop Restaurant
The Ramada Rooftop Restaurant in Islamabad offers a captivating ambiance. Nestled atop the prestigious Ramada Hotel, this restaurant provides an enchanting setting for an unforgettable dining experience. On your visit to the restaurant, you can enjoy breathtaking views of Islamabad's skyline, which creates a sense of tranquility and serenity.
The restaurant's design seamlessly blends modern elegance with traditional elements, creating a unique and inviting atmosphere. The open-air concept allows visitors to dine under the stars, providing a romantic and intimate setting for couples or a delightful gathering place for friends & family. Soft ambient lighting enhances the overall mood, creating a warm and cozy environment.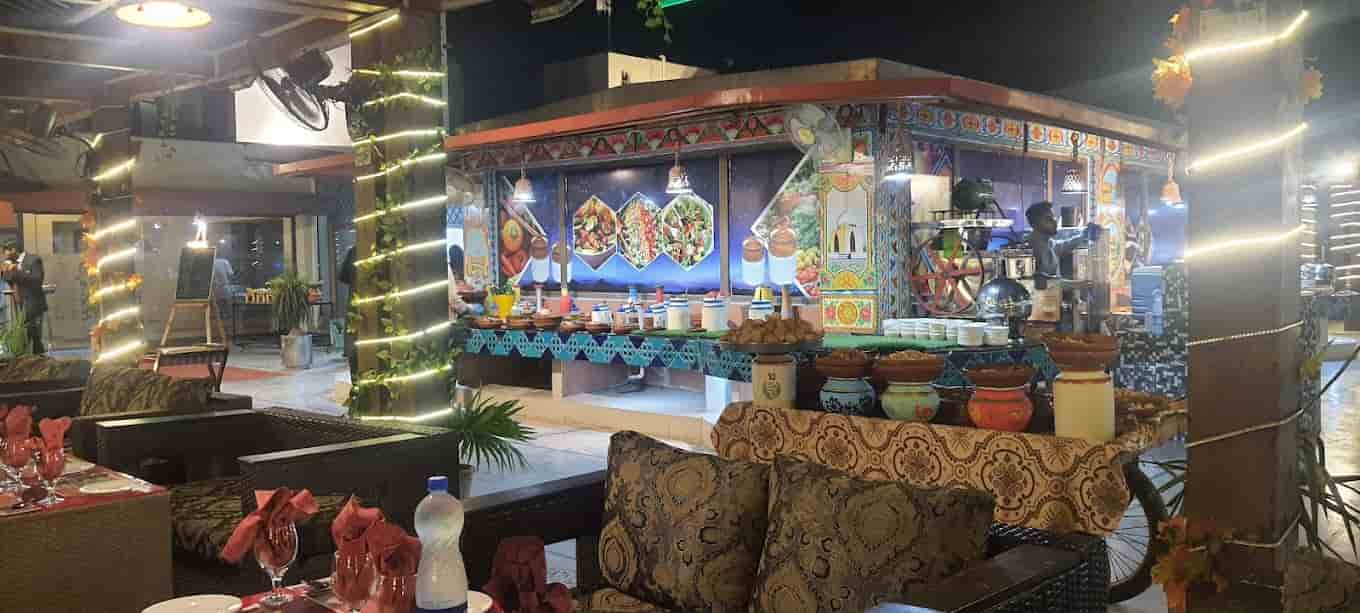 The decor of the Ramada Rooftop Restaurant is tastefully curated, reflecting a fusion of contemporary and Pakistani influences. Comfortable seating arrangements, with plush cushions and cozy chairs, provide guests with a relaxed and comfortable dining experience. The use of earthy tones, blend with vibrant accents, add a touch of sophistication to the overall ambiance of the restaurant.
One of the highlights of the restaurant is its well-manicured rooftop garden. Lush greenery, vibrant flowers, and carefully selected plants create a peaceful oasis amidst the bustling city below. The garden gives you a touch of natural beauty to the surroundings and enhances the overall sense of tranquility. As you indulge in the delectable cuisine, you can savor the breathtaking panoramic views of Islamabad making sure to capture this exceptional experience in cameras.
Location: M4V5+CRR, Shakar Parian, Islamabad, Pakistan.
Atrio Cafe & Grill
Atrio Cafe & Grill in Islamabad stands out as one of the most Instagrammable ambiance restaurants in Islamabad. Located in the heart of Jinnah Super Market in F/7, Atrio benefits from its prime location, offering easy access and a large parking lot right in front of the cafe.
One of the standout features of Atrio is its rooftop seating area, which provides a breathtaking view of the surrounding vicinity.The rooftop seating area offers a serene ambiance, allowing diners to connect with nature while savoring their food & seizing the memories in their camera lens. Aside from the ambiance the quality and taste of the food are exceptional, ensuring a memorable dining experience for everyone. This is a popular choice for all the people seeking extravagance in life.
Location: Jinnah Super Market, F-7 Markaz, Islamabad.
Some Fruitful Tips for Those Seeking to Capture the Best Shots to Attract through Enticing Social Media Feeds!
Plan your visit to catch the cityscape's captivating colors at sunset or during the golden hour from the terrace & rooftops of the restaurants as Islamabad has such an attractive landscape & the best ambiance restaurants.
Try using several views and angles to give your pictures more diversity. To show off the restaurant's attractiveness from all sides, take close-ups, wide vistas, and detailed photos.
Make use of the abundant natural light that comes in through the huge windows by using it. It will intensify the colors and provide a delicate, & attractive shine.
Focus on capturing the exquisite plating of the food, the minute details, and the vivid colors to draw attention to the culinary skill.
Don't forget the ambiance: Include shots of the stylish interior, cozy seating areas, and charming decor to give your followers a sense of the overall ambiance.
Remember all these Aesthetic restaurants in Islamabad include- Images of the chic interior, inviting seating places, and adorable decor, scenic outdoor views from terraces or rooftops to give your followers a sense of the space. Whether you're looking to capture the perfect Instagram shot while simply enjoying a memorable dining experience, this blog might help you. 
Explore: Fine Dine Restaurants in Islamabad