When it comes to dining out, fine dining is an exquisite experience that offers a higher quality and formality than casual dining. The ambiance of a fine dining restaurant is typically more sophisticated, and the food is served with greater attention to detail.
Corporate offices and families favor fine dining restaurants due to their impeccable hygiene standards, well-mannered chefs and staff, and serene environment.
12 Best Fine Dining Restaurants in Lahore
El Momento
Yum! Chinese and Thai Restaurant
The Mughal Court
Fuchsia Kitchen
Paola's Cosa Nostra
P.F Chang's Lahore
Monal Lahore
Andaaz Restaurant
Cafe Zouk
Tuscany Courtyard Lahore
Tai Pan
Black Stone- The Elite
Here in this blog, you will find the 12 best fine-dining restaurants in Lahore.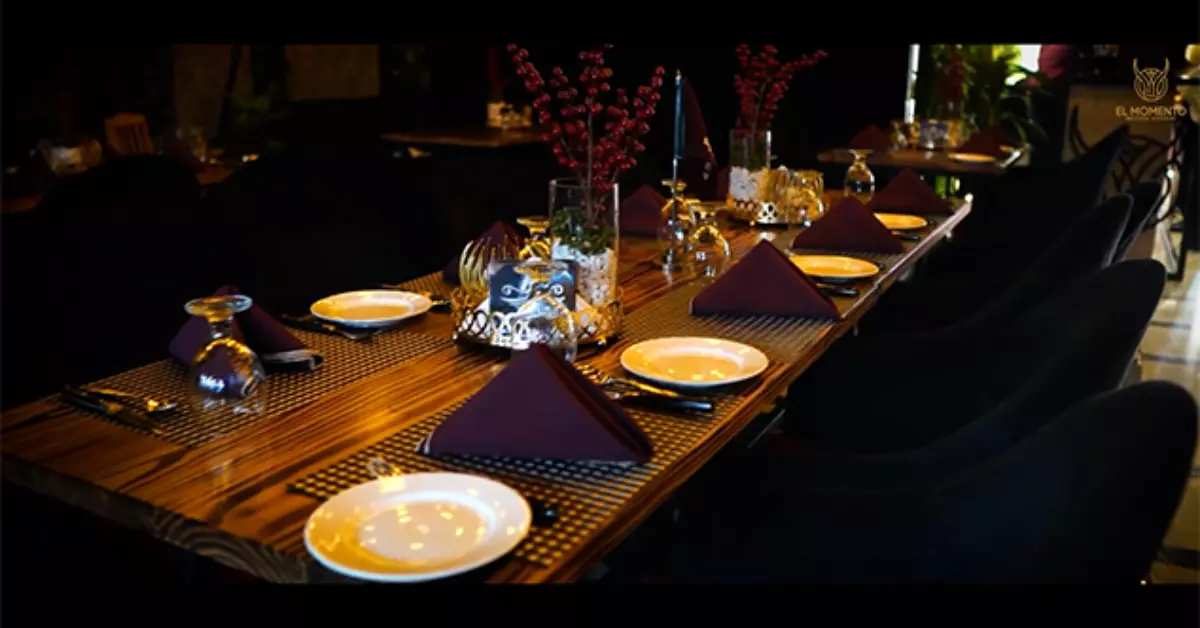 The El Momento restaurant in Lahore offers a highly sophisticated and expansive ambiance. Its interior design is surreal, with carefully chosen golden and vintage burgundy colors that cater to the needs of fine diners with comfortable seating.
Customers can peacefully enjoy their meal while soaking up the ambiance and savoring the delicious food. Because it's not just about the food; it's a vibe that matters, too.
Whether you're looking for a romantic dinner for two or a special evening with family and friends, El Momento is the ideal destination for an unforgettable dining experience.
2. The Mughal Court
The Mughal Court restaurant is a fine-dine restaurant located inside the Avari Hotel, which is known for its exceptional quality of food, service, and atmosphere. The restaurant's ambiance takes you back to the Mughal era, where hospitality is at its peak. Their traditional way of washing hands with Arq e Gulab adds to the overall experience.
The menu offers a variety of exquisite dishes, including butter chicken, BBQ, chicken Chapli kabab, and daal mash served with different types of chatnis in a desi style, all prepared with authentic Mughlai spices and ingredients. The Mughal Court restaurant is undoubtedly one of the best places to enjoy an exceptional dining experience in Lahore.
3. Fuchsia Kitchen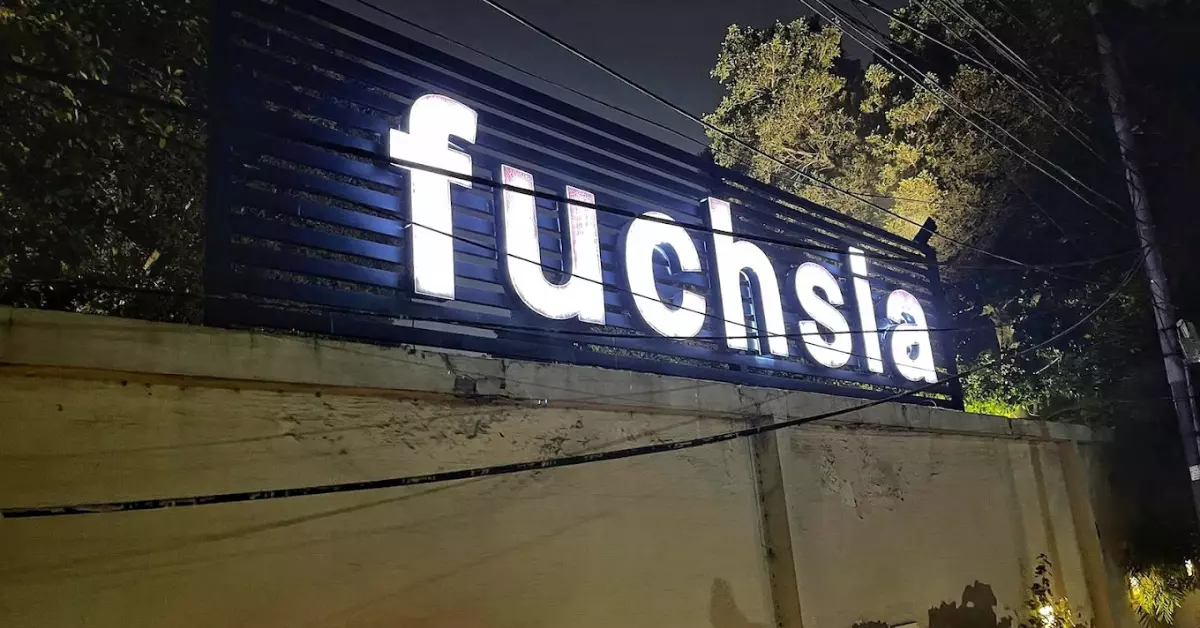 The Fuchsia Kitchen offers a luxurious and tasteful ambiance, with minimal decor and charmingly lit candles adorning the tables. It is an ideal spot for couples and families seeking a refined and elegant atmosphere. The dim lighting indoors creates a serene ambiance, complemented by the beautiful vases on the wall racks and comfortable seating and furniture. The outdoor seating is a tranquil oasis, surrounded by trees and lush greenery that adds to the overall sense of calm. Every detail has been carefully chosen to make this restaurant the best fine dining experience in Lahore.
The menu features a variety of Japanese, Chinese, Seafood, Beverages, Wraps, and Rolls, which are the icing on the cake when it comes to taste, and the professional customer service ensures a delightful dining experience. Overall, the Fuchsia Kitchen is a complete and satisfying fine-dining restaurant in Lahore.
4. Paola's Cosa Nostra
Paola's Cosa Nostra offers a truly exceptional fine dining experience with its impeccable ambiance and delectable Italian cuisine. Located in the heart of Lahore, the restaurant boasts a truly outstanding fine dining experience. It is one of Lahore's best fine-dining restaurants with a highly professional staff that will ensure that all aspects of your dining experience will surpass your expectations.
The restaurant environment is always maintained to a high standard, ensuring that you can enjoy your meal in complete relaxation and comfort.
5. P.F Chang's Lahore
P.F. Chang's located in Gulberg III is a well-known fine-dining restaurant in Lahore. This restaurant is considered one of the best Asian restaurants in Lahore, and the staff is highly polite and helpful. Upon arriving, you will see two white horses greeting you at the entrance.
The inside of the restaurant is beautifully decorated with various lights in different shapes, creating an elegant and sophisticated atmosphere. The seating arrangement is also top-notch, providing a luxurious feel to the dining experience. From the ambiance to the food presentation and customer service, everything is a win. Overall, P.F Chang's is a fair choice for those looking for a high-quality fine-dining experience in Lahore.
6. Monal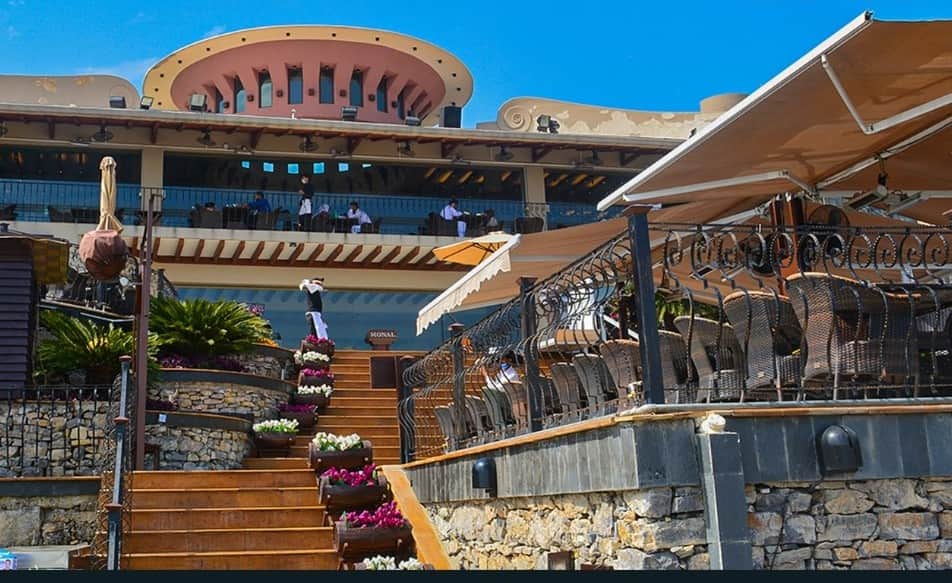 Monal is undoubtedly famous for its breathtaking aerial view from the rooftop, which offers a panoramic view of the entire city. Moreover, this fine-dining restaurant boasts a wide variety of Asian cuisine options, including delectable Barbecue and traditional dishes. With both indoor and outdoor seating options, Monal stands out as one of the best fine-dine restaurants in Lahore with its elegant interior and impeccable service.
Explore: 11 Best Fine Dine Restaurants in Islamabad
7. Andaaz Restaurant
Andaaz Restaurant is a fine-dining restaurant in Lahore that offers a stunning view of the Badshahi Mosque from the windows of its indoor seating area. The picturesque view of the city is enhanced by the colorful buildings lining the street and the lush gardens of the mosque. For an even more breathtaking experience, visitors can head to the rooftop and enjoy the enchanting Lahore skyline, especially at night when the city is illuminated.
The restaurant boasts a truly delectable menu that is sure to impress you. Overall, Andaaz Restaurant in Lahore provides a unique and unforgettable dining experience in a beautiful setting.
8. Cafe Zouk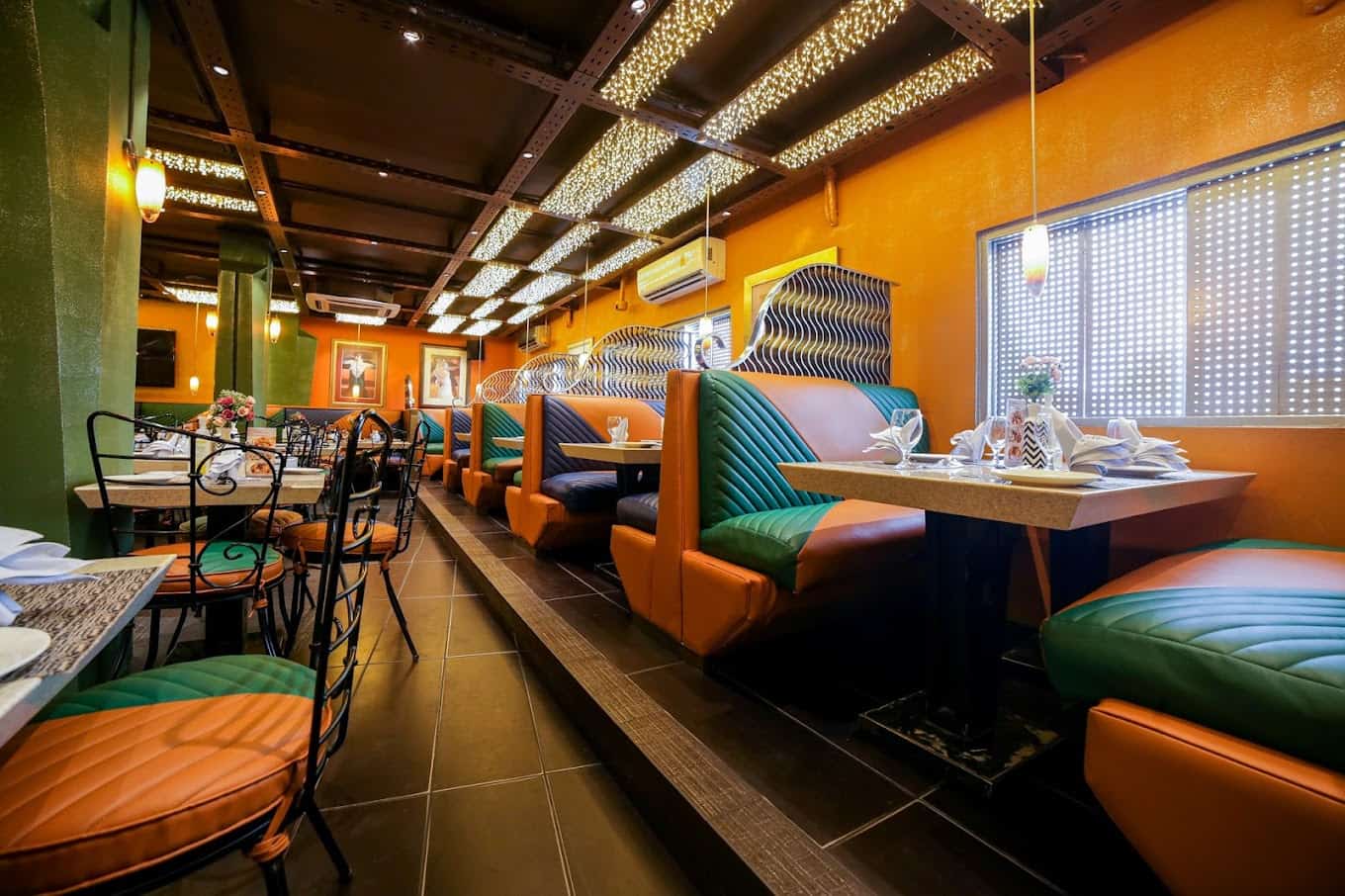 Cafe Zouk, a fine dining restaurant in Lahore, boasts a dark and sleek ambiance that offers a soothing experience to its customers. The restaurant's menu features a range of global cuisines, including hummus platters, which take customers on a culinary journey across continents. The sophisticated atmosphere and the mouth-watering grilled kebabs make Cafe Zouk a must-visit for food lovers. Its a perfect place to nestle in an exquisite aura with exceptional customer service and a delicious menu.
9. Yum! Chinese and Thai Restaurant
The Yum! Chinese and Thai Restaurant is a fine dining restaurant in Lahore. The restaurant boasts a tranquil, relaxing atmosphere that exudes elegance and sophistication. Its dimmed lighting, tasteful decor, and picturesque window view create the perfect ambiance for a fine dining experience. Every detail in the restaurant, from the furnishings to the lighting, has been carefully considered to create an authentic and memorable dining experience.
The menu is filled with an extensive selection of traditional Chinese and Thai dishes; each prepared using the freshest and highest-quality ingredients.
10. Tuscany Courtyard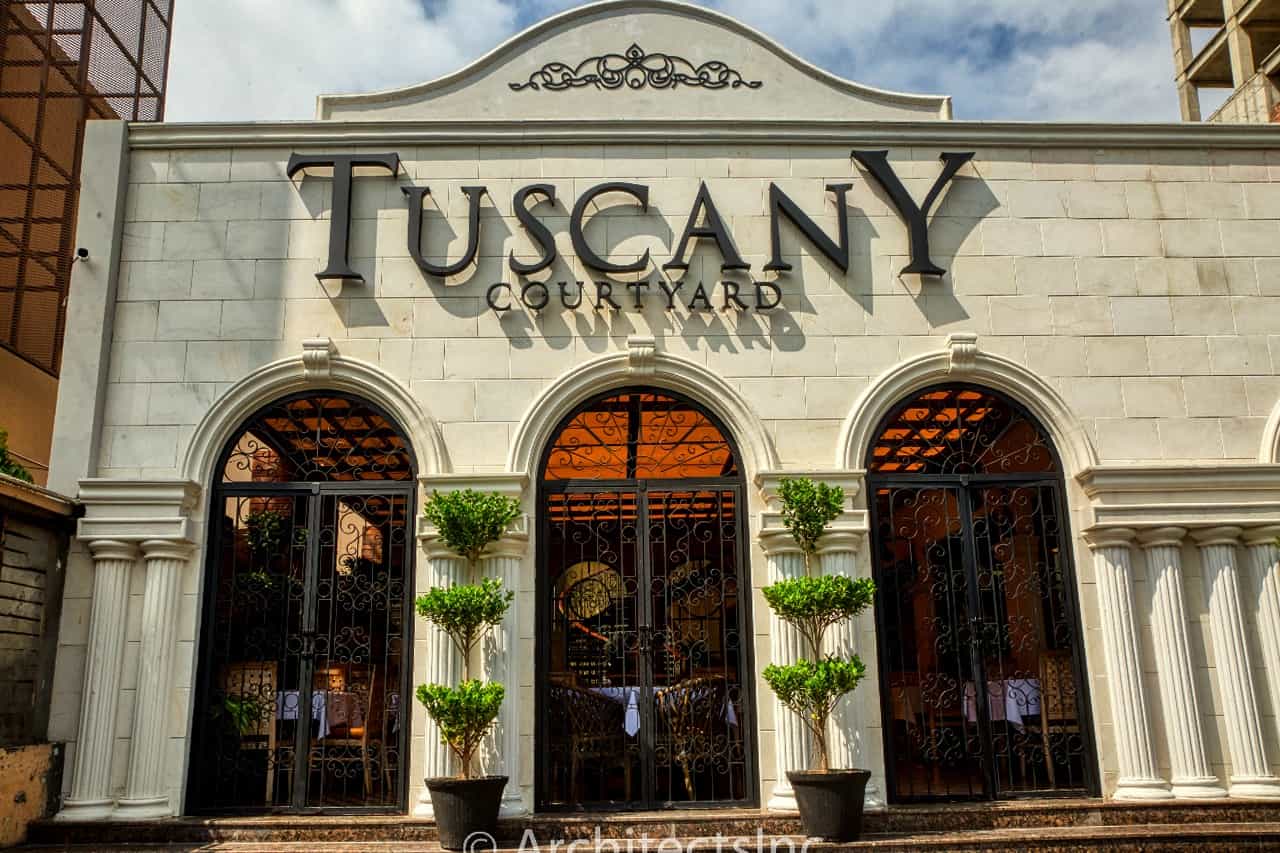 As you walk into the restaurant, you'll notice that it is well-lit and the ambiance is warm and inviting. The seating arrangement is thoughtfully planned, with comfortable chairs and ample space between tables, ensuring privacy and a peaceful dining experience.
The restaurant prides itself on serving a decadent continental menu with a wide range of options to choose from, each prepared with the utmost care and attention to detail. It's no wonder this restaurant is often considered one of the best fine-dining restaurants in Lahore.
11. Tai Pan
Tai Pan is an authentic Chinese restaurant located in PC Lahore & it truly stands out as one of the city's best Chinese restaurants. Its inviting and comfortable ambiance provides the perfect setting for a delightful meal. Whether it's a special occasion or a casual dinner, Tai Pan's welcoming environment caters to any dining experience.
The menu is exceptional and the ambiance is carefully curated to deliver an impressive dining experience. The service is impeccable, with attentive and knowledgeable servers who upheave the overall dining experience.
Tai Pan's commitment to serving exceptional Chinese cuisine in a beautifully decorated setting is a testament to its standing as the best fine-dine restaurant in Lahore. If you're a fan of Chinese cuisine and appreciate fine dining, Tai Pan Chinese is the perfect place for you.
12. Black Stone- The Elite
Black Stone- The Elite is another best fine dining restaurants in Lahore. The cozy atmosphere boasts wooden interiors, black tiles, and even a hut in the center, all lit up with stunning lights and greenery that will soothe your soul.
The furniture is carefully selected to complement the overall theme, which centers on black-and-white tones and vintage lighting. You can find this restaurant in Johar Town, located conveniently near Emporium Mall.
Its menu offers a wide range of both local and international cuisine, so you're sure to find something truly heartwarming. Black Stone- The Elite is truly an Elite restaurant.
In Lahore, people tend to favor fine-dining restaurants for their comfortable atmosphere and the opportunity to capture memories with their phones. The ambiance, food presentation, and taste all play an integral role in providing customers with a pleasurable experience, and fine-dining restaurants prioritize these aspects. As a result, customers often take photos and share their experiences on social media, which generates interest and attracts new customers. Based on extensive research, we have compiled a list of the top 12 fine-dining restaurants in Lahore. People's preferences may vary however majority will like these restaurants.