It is more romantic and intimidating to have a candle light dinner in Islamabad. A lightning candle symbolizes faith, miracles, enlightenment, peace, concentration, and life-giving power.

Candlelight dinners are popular with couples. An intimate candlelight dinner in a lovely, calm setting accompanied by soft background music is ideal for couples, as they can enjoy the seclusion and concentrate on each other's company.

Candlelight dinners are meant to bring relaxation, tranquility, and a sense of specialness to your loved ones. Organizing such things is a unique way of expressing how thankful you are for their presence in your life, and it helps you escape the mundane life for a while and experience a moment that you will always cherish as a lifetime memory. Little such efforts are what make life beautiful despite being on the roller coaster of this ever-rushing life. Live in the moment before it becomes a memory!
Best Candle Light Dinner Restaurants in Islamabad
Here are the best candle light dinner restaurants in Islamabad.
El Momento
La Montana
Dera Daari Restaurant
2 Broke Engineers
The Smokey Cauldron F-7
The Jungle Lounge
Shakespeare's Lounge
Khoka Khola
Bistro Noir
Burn Out Restaurant & Cafe
La Terraza
1. El Momento
El Momento Islamabad is one of the best restaurants to have a candlelight dinner. I tell you why: because it has everything you would want to make your candlelight dinner memorable & ever-evoked.
The dark ambiance with a starry ceiling is just sublime. The environment is really peaceful, and the menu is expansive to impress someone, from the Steaks to the Italian, Japanese, Chinese, & Thai cuisine because each bite is a delightful explosion of flavors, and the presentation of the dishes is also noteworthy; as we say that the best way to reach someone's heart is through their stomach.
Nevertheless, its prime location in Beverly Centre F-6, Islamabad, makes it convenient to swing by anytime and leave an impression. So, don't hesitate to book your spot. The staff is really cooperative in case you want to have some pre-additions or plan a surprise for the one.
2. La Montana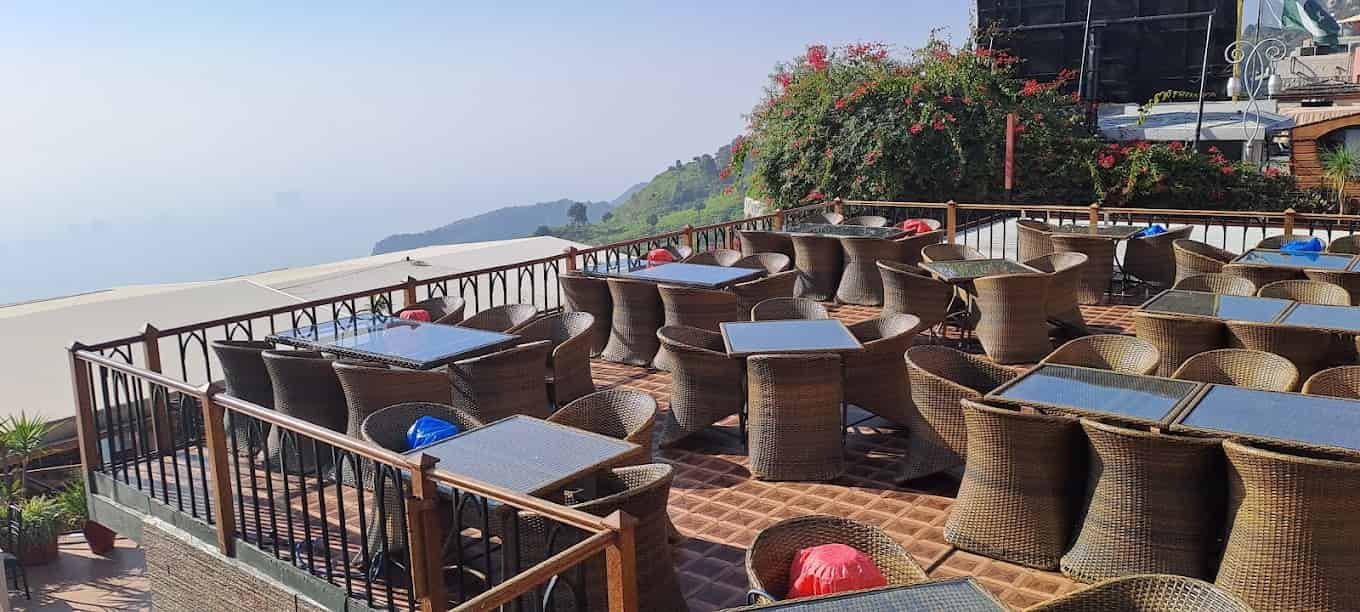 La Montana is one of the best options for a candlelight dinner in Islamabad, especially if you want to enjoy the rooftop view of the entire city at night. It is awe-inspiring & will certainly impress you with the overall experience of having a candlelight dinner in open tares under the stars, making it more romantic & intimidating while enjoying a good taste.
3. Dera Daari Restaurant
Dera Daari, located in sect C-12 near Trail 7, is an open-air restaurant with serene beauty, and it is a truly remarkable place for candlelight dinners from bustling city life. That's what truly sets this restaurant apart is the feeling of being connected to nature throughout the meal.
The restaurant's setting amidst lush greenery and gentle breezes creates a soothing atmosphere that immediately puts you at ease. The natural surroundings provided a stunning backdrop while enjoying the delicious meal is a heavenly-like experience, and the sounds of chirping birds and rustling leaves added to the tranquility.
The menu is equally impressive, offering a diverse range of dishes prepared with fresh, local ingredients. The staff was attentive and knowledgeable, making thoughtful recommendations and ensuring that your dining experience was nothing short of exceptional.

So, if you want to welcome escape from the hustle and bustle of city life, allow yourself to unwind and savor every moment. For your romantic candlelight dinner in a peaceful retreat, this restaurant's serene beauty is sure to leave you with cherished memories. Consider this: if you live nearby or won't mind driving a few miles away, this is worth it. Dera Daari is also a good option if you want to host big events.
4. 2 Broke Engineers
2 Broke Engineer is an excellent place for a peaceful candlelight dinner located in sector F/7 Islamabad. They have a very lively, soothing, dark ambiance. You can enjoy plenty of Asian cuisine options from the menu and can create a pretty decent impression.

They offer both indoor & outdoor seating, so choose where it's less rushy & enjoy your candlelight dinner, and bring lots of memories home.
5. The Smokey Cauldron F-7
The Smokey Cauldron is a fantastic restaurant if we talk about its ambiance, which is unique based on the Harry Potter theme.

In the Smokey Cauldron, magic runs wild, even on the outside. Everything inside out is to bring back those riveting emotions we all felt from the Harry Potter movies. And the other unique part is its sticky notes on the wall.
They have a dedicated sticky notes wall where you can leave your memory. Well, what could be more romantic to a romantic dinner date than this? You will be astounded by its overall theme. And guess what? If your partner is a Harry Porter fan, you're definitely in luck today.
Their menu is really adding a cherry on top; it won't disappoint you in taste as well. Try its chinese food or steak, that's the best. Hope it will be your joyous visit to this fantastic spot in Islamabad for a candlelight dinner or simply a day-out dine-in experience.
6. The Jungle Lounge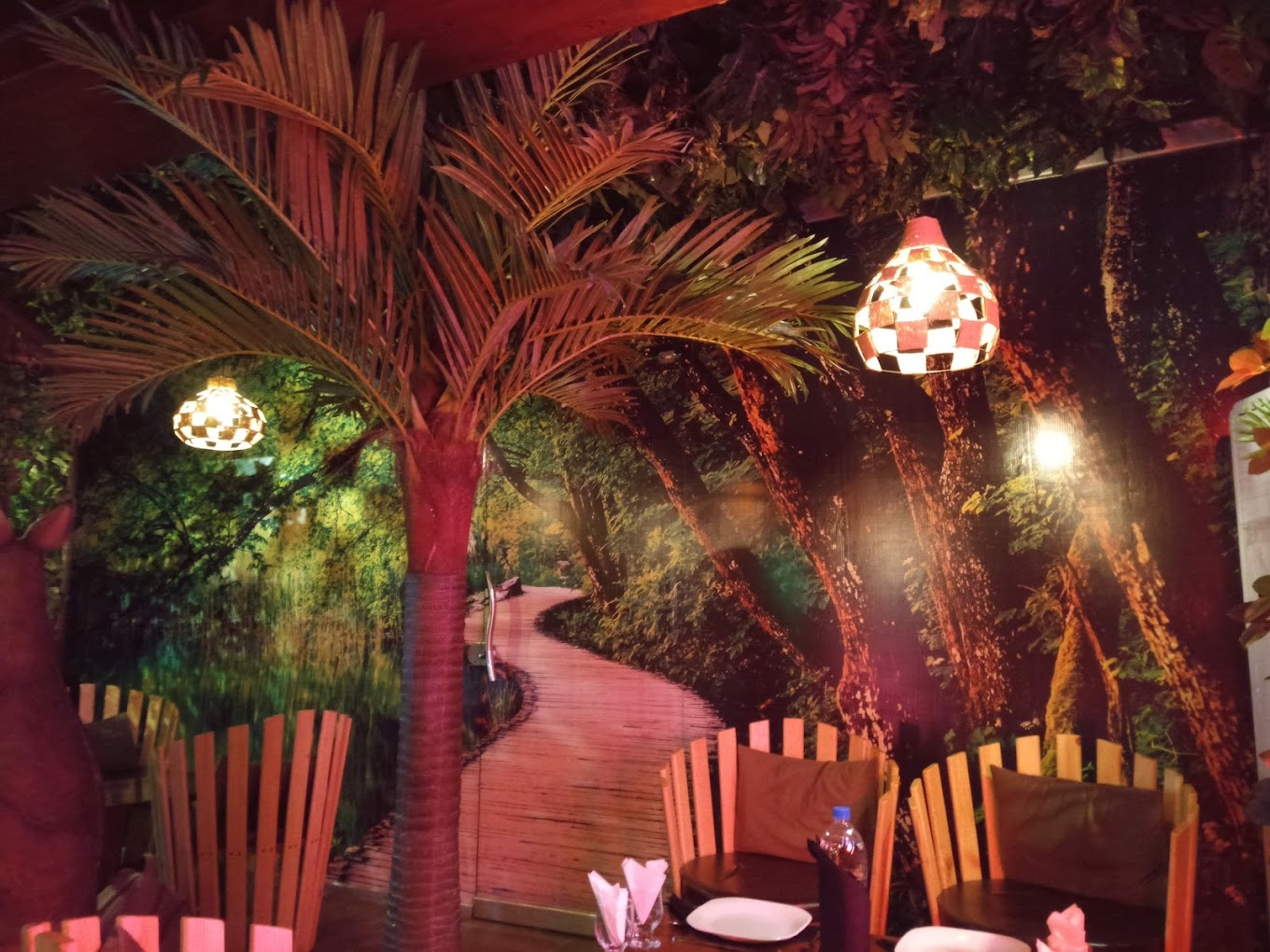 If you are adventurous or want to have a wild candlelight dinner in Islamabad, we have added one to the list. The lights hanging on the trees and small wooden huts look so romantic at night to have a dinner date in such a tucked away place where you have all the peace of mind.
Jungle Lounge Cafe is located at E-11/2 Markaz, with a unique jungle theme that offers all the snug and cozy jungle vibes you can think of, along with delicious food and hookah in various flavors.
7. Shakespeare's Lounge
Shakespeare's Lounge has a lovely modern-day theme located in Jinnah Super F-7, Islamabad. It is a perfect option in Islamabad, where you can have a candlelight dinner at ease. The menu includes sandwiches, pasta, wraps, drinks, burgers & more.
8. Khoka Khola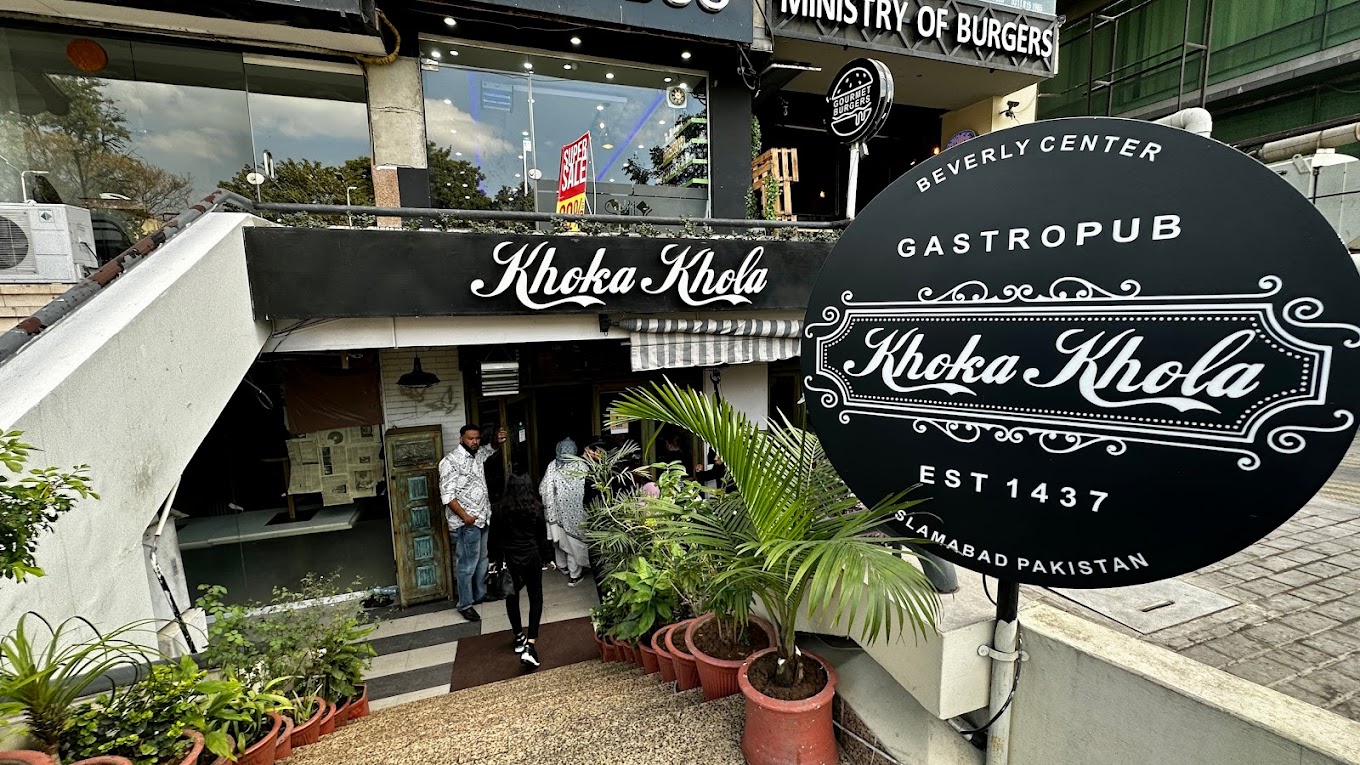 Khoka Khola is a small eatery yet really enticing because of its rustic interior. It would be a good option for a candlelight dinner, especially if you are an old-fashioned person because the restaurant overall gives you an 80s vibe with the old classic music in the background and food served in Thalis. Consider it if you would like to have quality desi food for your candlelight dinner in Islamabad.
9. Bistro Noir
A great restaurant in F-7, Islamabad, is perfect for romantic dinners with both indoor and outdoor exotic atmospheres—the best option for a memorable candlelight dinner in Islamabad. The restaurant specializes in Italian & French cuisine. They are outstanding in what they serve, hence the customer service; everything is right on the spot. Every corner of this restaurant exudes elegance. If you really want to cherish your quality time during the candlelight dinner in Islamabad or want to have a dinner date anyway, make sure you check this out.
10. Burn Out Restaurant & Cafe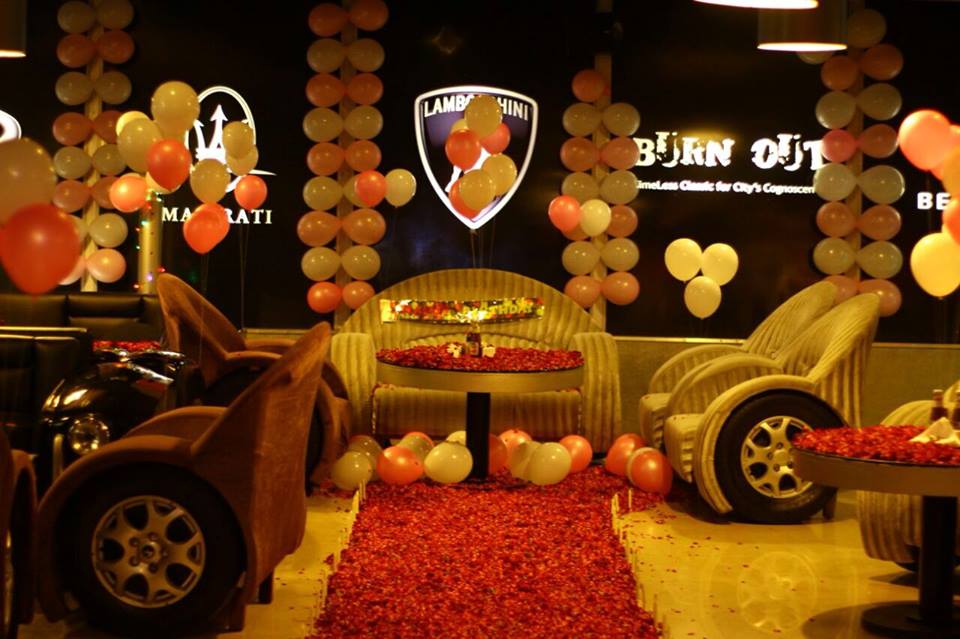 Burn out restaurant ambiance is quite fancy and appealing. It has a nice environment for a candlelight dinner or for a romantic dinner date. The interior is superb. They have unique & comfortable sofas with wheels, and the dark ambiance gives you a sleek luxury feel from the entrance to the entire restaurant. It is just perfect.

They have plenty of options in Burgers, Steaks, Deserts, Beverages, Wings & chicken. However, their prices are a bit high. They also serve sheesha.
11. La Terraza
La Terraza is located in Centaurus F-8, Islamabad. The restaurant serves scrumptious Italian cuisine. And it is an excellent option to enjoy your candlelight dinner in a beautiful ambiance. And the edge you get if you have a shopping plan after a nice candlelight dinner in Islamabad.
These blog will help you find the best candlelight dinner restaurant in Islamabad, where you can Celebrate such special moments like hosting a candlelight dinner for your spouse or simply a dinner date to warm their hearts, organizing an anniversary dinner, or a birthday celebration for your loved ones, or simply spending time with your family and friends. You can count on these restaurants above as they are the best restaurants for candle light dinner in Islamabad and any other celebrations.
Explore: Fine Dine Restaurants in Islamabad