Places to Visit in Lahore at Night
Urban areas, particularly Lahore, have a distinct appeal at night due to the bright lighting and lively atmosphere. Night outings and outdoor dinners are popular among busy individuals, who often prefer to shop or have dinner in the evening or at night. It is very relaxing to sit out for coffee or stroll around with friends or family at night after a long day of work.
This article offers suggestions for some of the top places to visit in Lahore at night. Night time illumination highlighted their unique beauty and charm.
Minar-e-Pakistan
Badshahi Masjid
Liberty Market
Haveli Restaurant
MM Alam Road
Lahore Food Street
The Royal Palm Golf & Country Club
Anarkali Bazar
Fortress Square Bowling Club
Shalimar Bagh
1. Minar-e-Pakistan 
The lofty Minar-e-Pakistan in Iqbal Park symbolizes Pakistan's birthplace. The Lahore Resolution, a turning point in the nation's fight for independence, is remembered by this famous monument. While exploring Iqbal Park's natural surroundings, visitors may discover the landmark's historical importance. And at night, it becomes much more beautiful, like the Eiffel Tower of Pakistan. It illuminates various lights that mesmerize you.
Additional Facts
The Minar's overall height is around 70 meters above the ground, with the tower rising to roughly 62 meters at its base.
The nine-meter-tall flower-like base's expanding petals.
The tower is approximately 9.75 meters in diameter.
Facing the Badshahi Mosque, the rostrum is constructed from patterned tiles.
Explore: 13 Gates of Lahore
2. Badshahi Masjid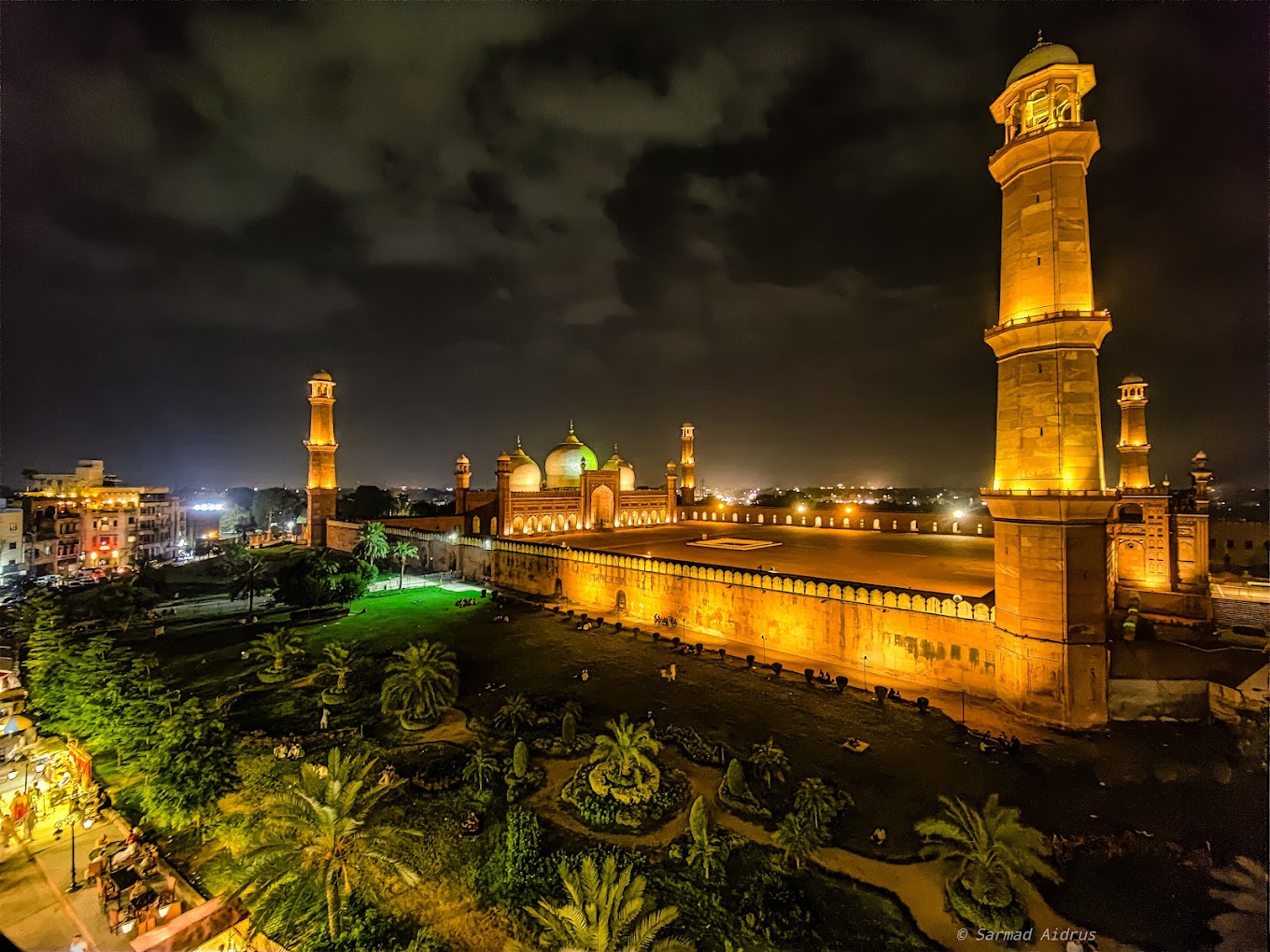 Badshahi Masjid is situated next to the Lahore Fort. The architectural allure of the mosque dates back to the Mughal era, and it holds great religious and historical significance. It is currently Pakistan's third-biggest mosque and the largest of the Mughal era.
Its magnificent construction has spectacular domes and intricate marble work. The mosque facade is adorned with carved red sandstone with marble overlays. It is an outstanding example of Mughal architecture. Visitors can enjoy the splendor of the mosque's prayer rooms and the tranquility of its courtyard.
Especially at night, this place gleams like a gem. From here, you experience a serene, spiritual feeling that helps you disconnect all material connections and become one with your inner self.
Additional Information
The Badshahi Mosque in Lahore was built by Aurangzeb, the sixth Mughal Emperor. When it was first built, the mosque was the biggest in the world and took two years to complete. It is the fifth-largest mosque worldwide and the second-largest mosque in Pakistan.
3. Liberty Market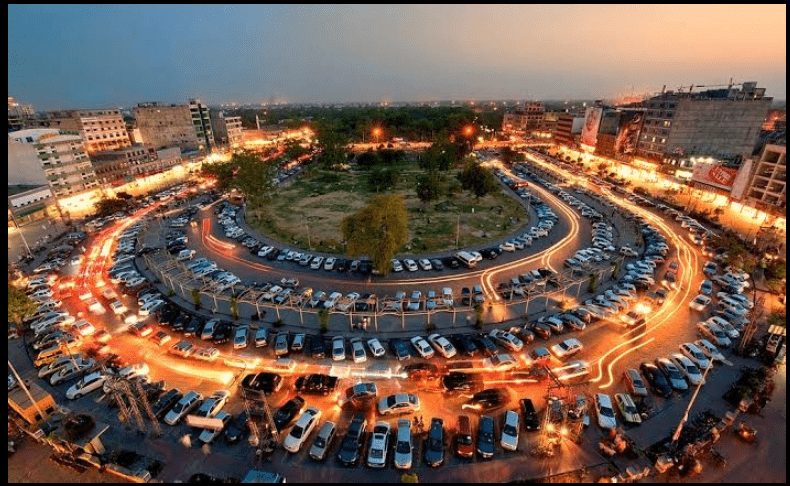 Lahore's Liberty Market is one of the oldest markets in the country. It is a bustling commercial hub attracting those who love shopping and food. This market offers a mix of traditional and modern shopping experiences. It is a treasure trove of fabrics, clothes, accessories, and more. It is also known for its many restaurants, food stalls, and grocery stores.
When it comes to culture, food, shopping, and traveling to Lahore, the neighborhood around Liberty Market is a great place to visit. Many people visit this place after work to shop and eat. It is a place that suits all budgets, which is why there is always a massive footfall here. It keeps you awake late at night.
4. Haveli Restaurant 
Haveli Restaurant is located in the historic Haveli Khalil Khan, which is an architectural landmark of the Fort Road Food Street in Lahore. Nestled in the lap of history, Haveli offers incomparable and outstanding views of the famous Badshahi Mosque, built by the Moghul emperor Aurangzeb in 1673.
Nestled in the lap of history, Haveli offers incomparable and outstanding views of the famous Badshahi Mosque. Nestled in the lap of history, Haveli offers incomparable and outstanding views of the famous Badshahi Mosque.
Haveli Restaurant's historic Mughal architecture and cultural ambiance provide for a unique dining experience. Amidst the allure of a traditional haveli, visitors can relish classic Pakistani food. The restaurant's pleasant ambiance is enhanced by the frequent live music and cultural events it sponsors.
Read More: A Journey into the Old Streets of Lahore
5. MM Alam Road
Known for its exclusive boutiques, cafes, and restaurants, MM Alam Road is a vibrant avenue catering to the city's elite. It's a popular destination for those seeking a blend of high-end shopping and fine dining. The road comes alive in the evening, making it an ideal spot for a leisurely stroll.
If you want a luxurious dinner at night on MM Alam Road, visit El Momento steak house Lahore. The Restaurant offers an extensive range of Asian cuisine and serves the best steak in town. The ambiance will make you feel more comfortable to have dinner in a relaxing atmosphere.
6. Lahore Food Street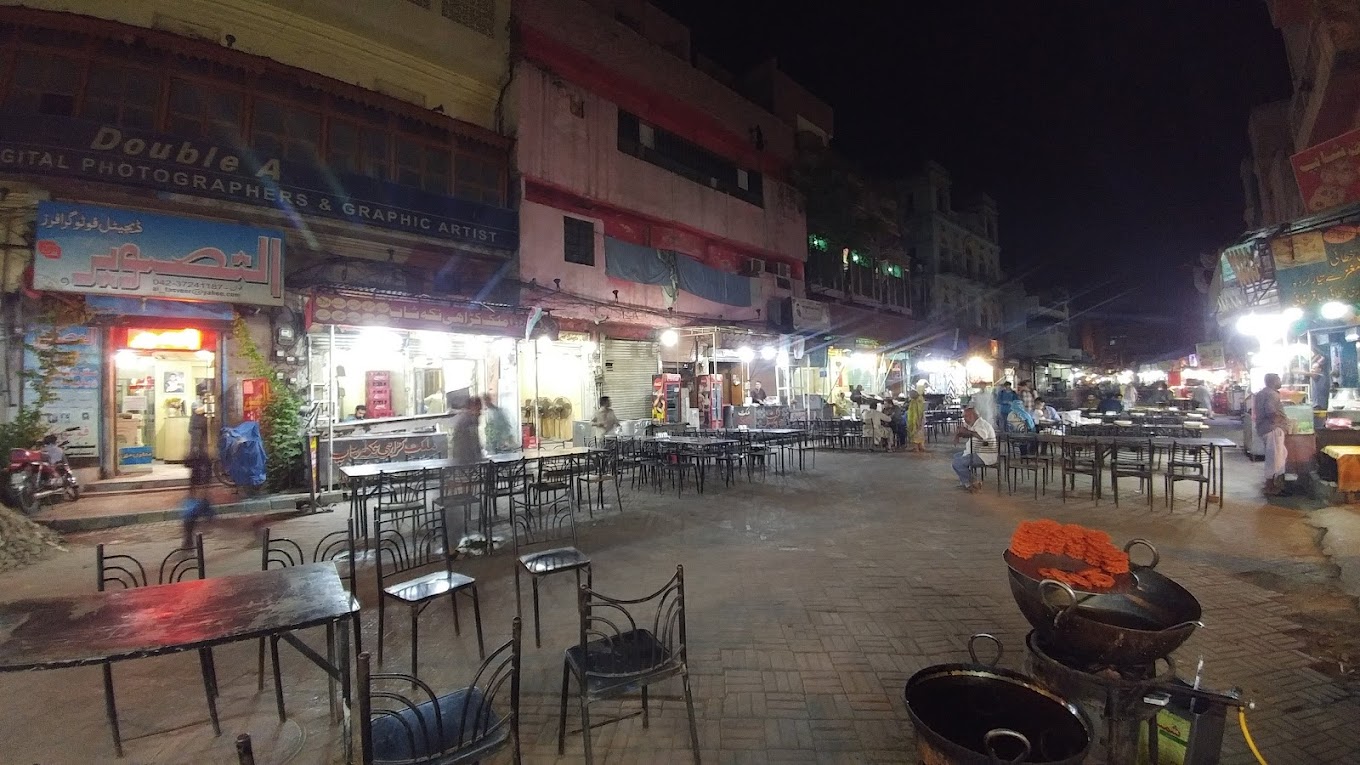 Fort Road Food Street is a must-visit whenever you're in Lahore. The real magic starts at night when the rooftop restaurants offer a breathtaking view of the stunning Badshahi Mosque, Lahore Fort, and the city's impressive skyline. You'll feel enchanted by the captivating environment and the aromas of delicious food wafting through the air. Fort Road Food Street offers a wide variety of food options from traditional Pakistani dishes to international cuisine. Whether you're a real foodie or just looking for a fun food experience, this street is not to be missed.
7. The Royal Palm Golf & Country Club
For a touch of luxury and leisure, The Royal Palm Golf & Country Club provides a serene retreat. Golf enthusiasts can enjoy a round of golf surrounded by lush greenery while the club's facilities cater to a range of recreational activities. It's a perfect escape for those seeking relaxation and indulgence at night in Lahore. A stroll in Royal Palm Golf and Country Club at night is breathtaking, with the stars twinkling above the lake and the moon reflecting in the water.
8. Anarkali Bazar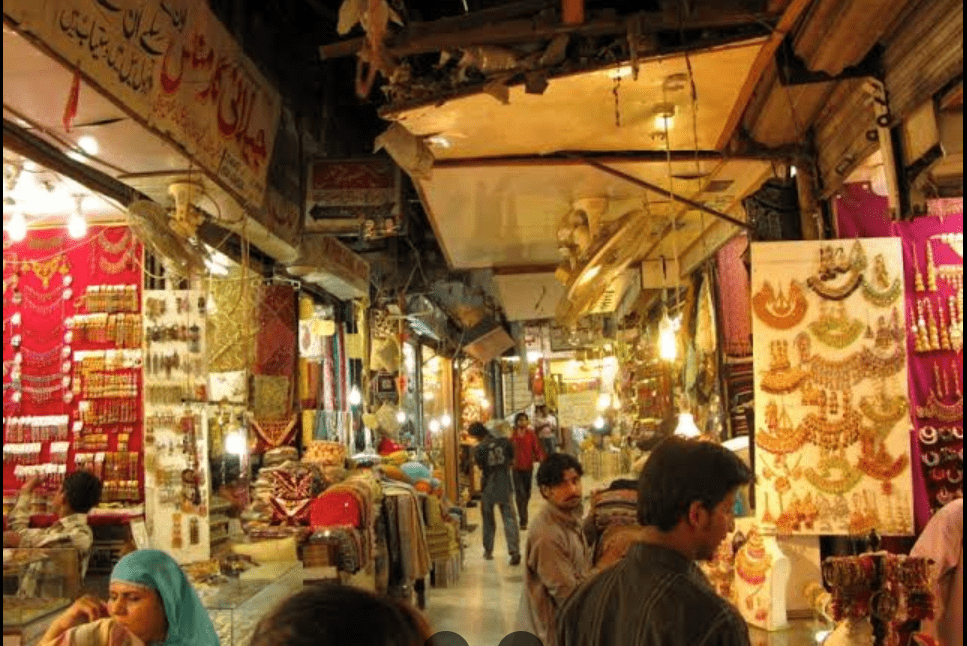 The Anarkali Bazaar is one of the oldest markets in Lahore where you can discover the city's rich cultural heritage. It comprises two sections: the Old Anarkali Bazaar and the New Anarkali Bazaar. The Old Anarkali Bazaar is famous for its traditional food items, while the New Anarkali Bazaar is known for its traditional handicrafts and embroidery.
It is further divided into several markets, including Bano Bazaar, Dhani Ram Road, Jan Muhammad Road, Aabkari Road, Paisa Akhbar, Urdu Bazar, and Paan Gali.These markets are a treasure trove of traditional crafts, jewelry, and fabrics that are unique to the region and offer a glimpse into the past.
Come nightfall, the bazaar comes alive with a vibrant energy that draws in a massive crowd. The dazzling lights illuminate the traditional marketplace, creating an atmosphere that invigorates the senses and fills the air with excitement.
Additional Information
Anarkali Bazar is one of the oldest bazaars in Lahore, Punjab, Pakistan. It is said to have been established by Emperor Jahangir about 400 years ago.
9. Fortress Square Bowling Club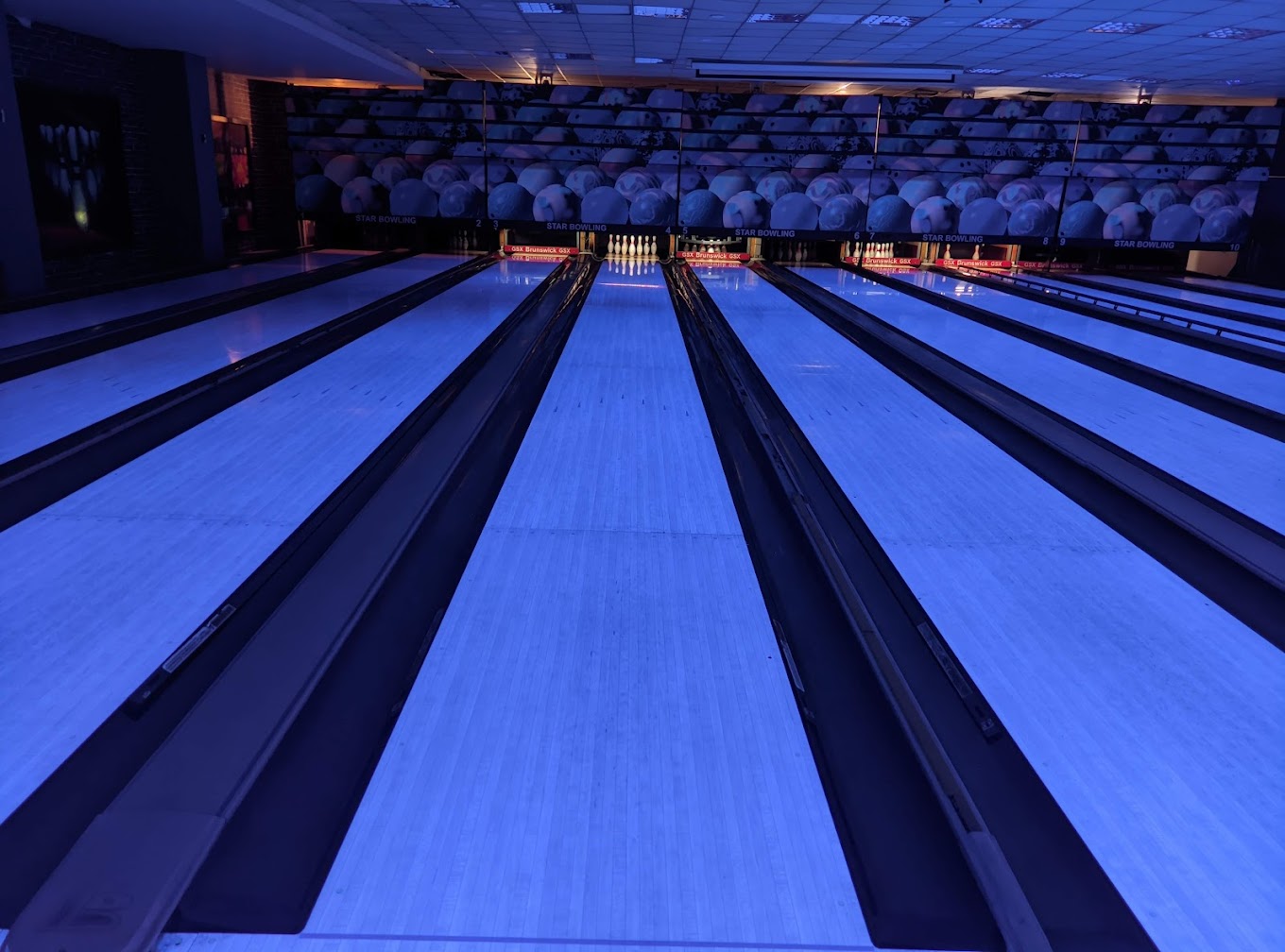 The Fortress Square Bowling Club in Lahore is a popular choice for entertainment and recreation, with state-of-the-art bowling alleys and a lively atmosphere. It's an ideal spot for friends and families to unwind and enjoy a game. During the night, people adore visiting this place to relax and enjoy the fun activities.
10. Shalimar Bagh
Shalimar Bagh, also known as Shalimar Garden, is a magnificent Mughal garden in Lahore that offers a respite from the hustle and bustle of the city. The garden's terraced levels, flowing fountains, and lush greenery create a serene atmosphere perfect for leisurely strolls, family picnics, or simply admiring the beauty of Mughal garden design.
One of the unique features of Shalimar Bagh is the chini khanas, or arched niches, located behind the garden waterfalls. These niches are illuminated with oil lamps at night, creating a magical effect that adds to the garden's charm. It is a perfect spot for a nighttime visit, especially for those interested in the technical details of Mughal garden architecture.
Conclusion
If you are a night owl looking for some places to explore in Lahore at night, consider visiting the following places. Whether you want to enjoy food, recreational activities, shopping, or just a leisurely stroll around the city, these places have your back.  These places in Lahore are also great for photography enthusiasts who enjoy shooting or filming at night. The architecture of these places is particularly eye-catching and provides ample opportunities to showcase your talent. 
We hope you have a great time exploring Lahore!
FAQs
What is Fortress Square Bowling Club in Lahore timing?
Friday 11 am–10 pm
Saturday 11 am–10 pm
Sunday 11 am–10 pm
Monday 11 am–10 pm
Tuesday 11 am–10 pm
Wednesday 11 am–10 pm
Thursday 11 am–10 pm
What is the timing of The Royal Palm Golf & Country Club in Lahore?
Friday 6 am–12 am
Saturday 6 am–12 am
Sunday 10:30 am–12 am
Monday 6 am–12 am
Tuesday 6 am–12 am
Wednesday 6 am–12 am
Thursday 6 am–12 am
Best place for Dinner at MM Alam Road Lahore?
El Momento Lahore is the best fine dining restaurant on MM Alam Road Lahore. The restaurant offers a beautiful atmosphere, an extensive menu with exceptional taste, and quick service at a very affordable price.
Which is the biggest Bazar of Lahore?
The Anarkali Bazaar is Lahore's largest and the most popular market.
What is the old name of Minar-e-Pakistan?
The old name of Minar-e Pakis was Manto Park. It is also known as Tower of Pakistan.